ORIZON DANCE FESTIVAL brings you the heart of Celebrating Life, Movement is Life, Love & Hope through global music within the soul of street and formalized dance styles: performances, showcasing, live DJ, vendors, book authors, fashion, poetry, battles for cash prize in 4 different dance styles (must clash in all 4 dance styles to win), emcees, raffling artwork and so much more. This is a FUN festival for family & friends but to compete aka battle you must be 18+ and to showcase ranges in all ages.
In 2020 Nov the ORIZON DANCE FESTIVAL "ODF" was sold out at Pan African Connection, 2022 we created a bigger space for everyone held at the TX Theatre in Oak Cliff. Our vol 3 event --- Celebrate Life "UHAMBE NAMI" will leave you wanting more and understand the beauty, strength & unity as you "Walk with Me" (Uhambe Nami) around the world on Saturday 29 July 2023 - Movement is Life: UHAMBE NAMI X POETIC IMPACT.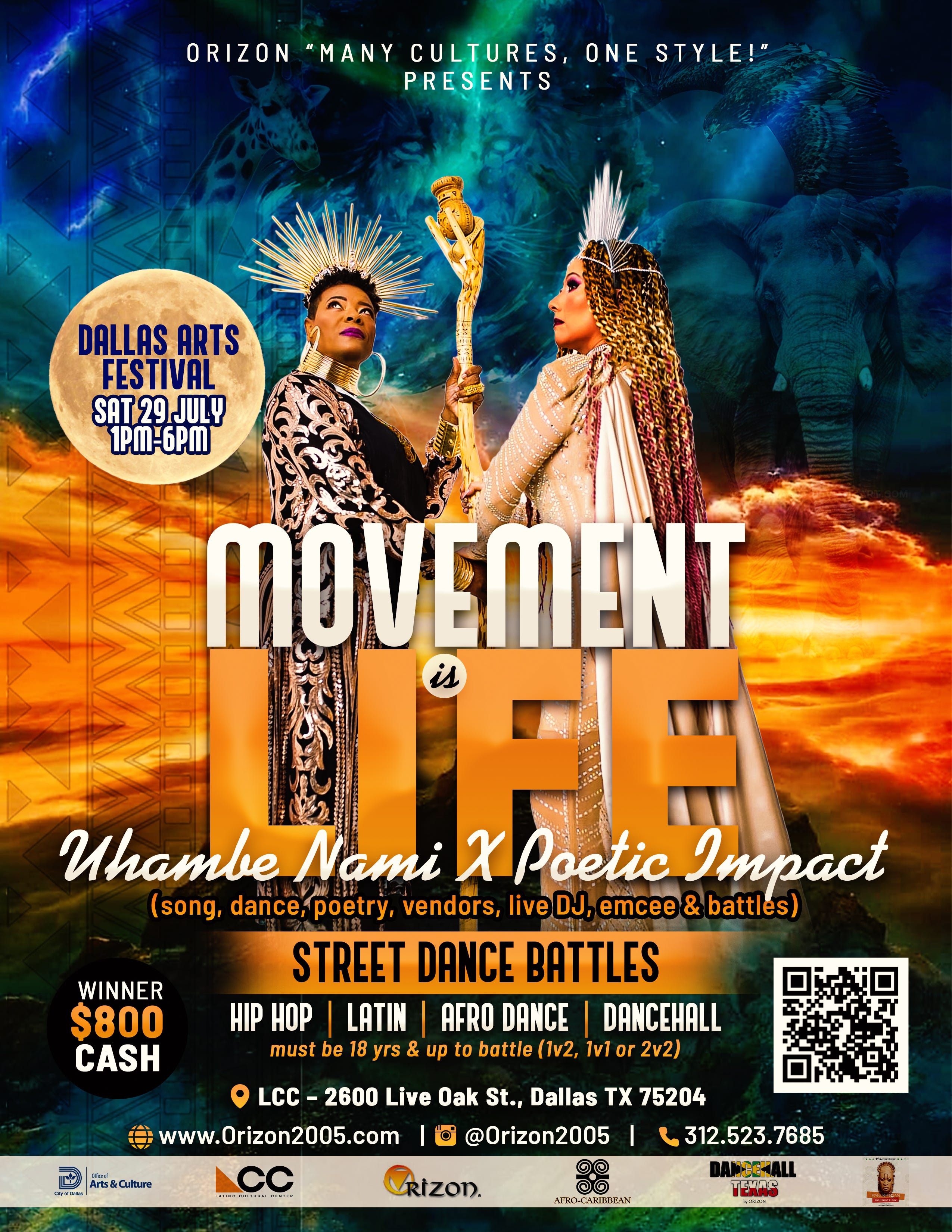 What makes our festival different?
The necessity to understand different cultures is the mother of inventions which brings you the birth of UHAMBE NAMI in 2020 at Pan African Connection by ORIZON, founder Micaela Gutierrez-Tillett. From 2020 to 2022 we bought in 150 artists, impacted community over 650+ and we created opportunities to educational resources for everyone who attended. The ORIZON Festival titled UHAMBE NAMI united 8 different cultures through 4 diff styles of dance the past 2 yrs and this year for 2023 it will be 12 cultures through 8 different mediums: dance (Hip Hop/Latin/Dancehall/AfroDance), music, poetry, song, painting, fashion, audiovisual & table talk. ORIZON motto since 2005 "Many Cultures, One Style!" and this year our why entails; every artist goes through a metamorphosis (change/gear shift) due to life's challenges or personal growth and uniting different artist through different realms of artistry gives them (novice to seasoned artist, attendees & staff) the opportunity to experience life through rose-colored glasses to help ppl see it's about the CULTURE (many diff cultures) not the Hype. Our event uplifts, inspires to empowers marginalized voices, we have easy access to public transportation and our event tickets range from $15 to $20 pp. EVENT DETAILS and TICKETS (click link)